Our partner Magirus presented the new AirCore line of vehicles with turbines for forest fire fighting. Among them: the world's first production-ready tracked fire engine.
There is great news from Ulm (Germany): on 24 and 25 September, Magirus presented the latest products focusing on forest and vegetation fires at a press conference. Our fire-fighting turbine played a major role in the event, as the AirCore family has now expanded:
the AirCore TAF60 fire fighting robot
the TLF AirCore
and the worldwide unique tracked fire fighting vehicle: FireBull AirCore
"The forest fire incidents of recent years have shown the high demand among fire departments and emergency services for effective and technically developed solutions. This is precisely where the FireBull comes in: It transports high payloads with minimum ground pressure over the most difficult terrain, ensuring maximum extinguishing power, and safety for the emergency services at the same time." says Magirus CEO Marc Diening about the FireBull AirCore
With a climbing performance of 31°(60%) and a maximum inclination across the slope of up to 21°(40%), the FireBull transports water (10,000-litre extinguishing agent tank) or the required logistics safely up and down slopes. The water mist technology enables efficient firefighting and humidification of the vegetation as well as high penetration depths into the vegetation. The water can be discharged while driving in Pump & Roll mode.
Photo: FireBull AirCore
Not only the FireBull is a real eye-catcher, but also the TLF AirCore and the fire fighting robot TAF60 are unique in their function and design.
The new fire fighting robot AirCore TAF60 comes up with several innovations: the total height has been reduced to 2 metres so that the extinguishing robot can easily reach all underground car parks and other places with limited height. The maximum water flow rate has, on the other hand, been greatly increased: in total, the turbine is now able to push water through from 500 to 6,000 litres per minute. In addition, the water monitor located inside the turbine is movable and thus guarantees maximum flexibility in the spray pattern. Optionally, the robot is available as well with a second (independent) monitor.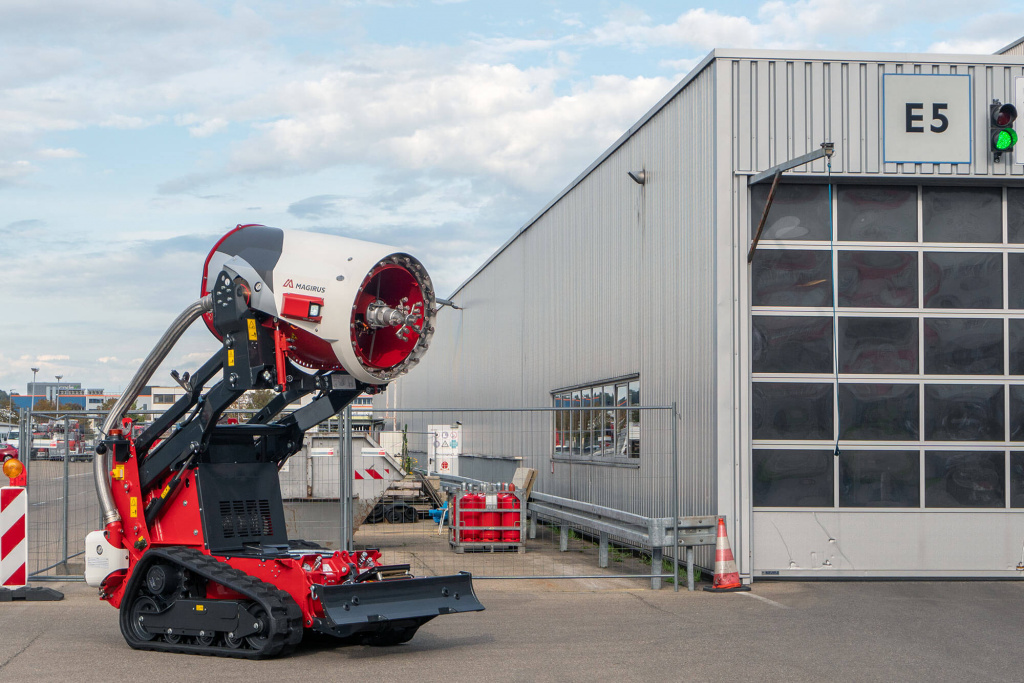 Photo: Fire fighting Robot AirCore TAF60
The TLF AirCore is a fire fighting vehicle with water mist turbine. It has a total capacity of 3,500 litres (water and foam tank) and can be expanded as required by the customer. For maximum flexibility, the turbine comes with two independent water monitors. This allows flow rates of 500 to 6,000 litres per minute.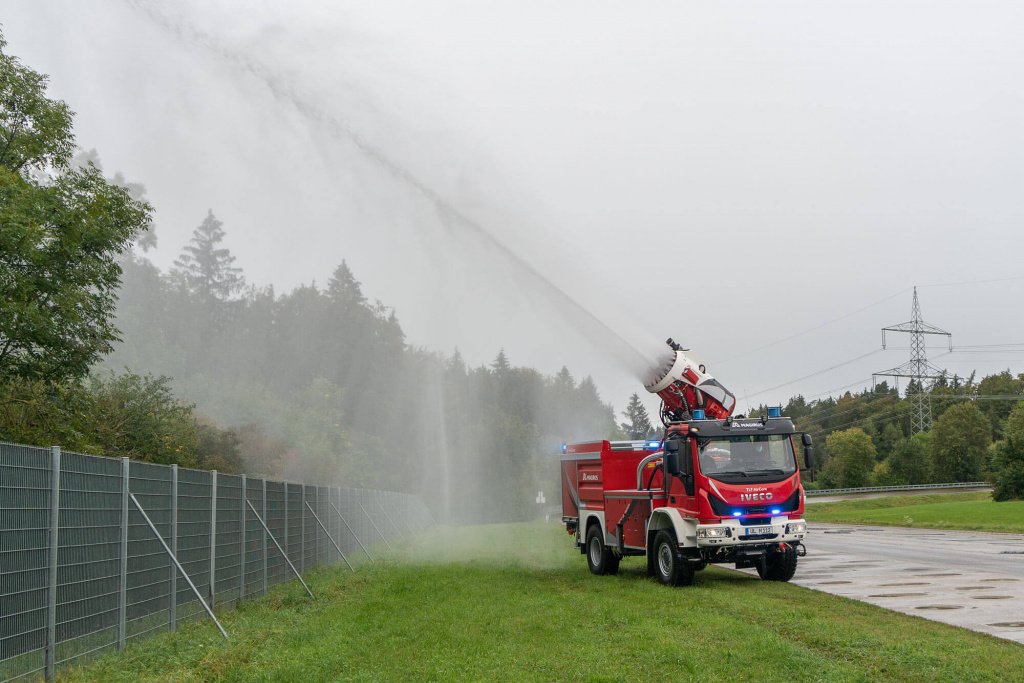 Photo: TLF AirCore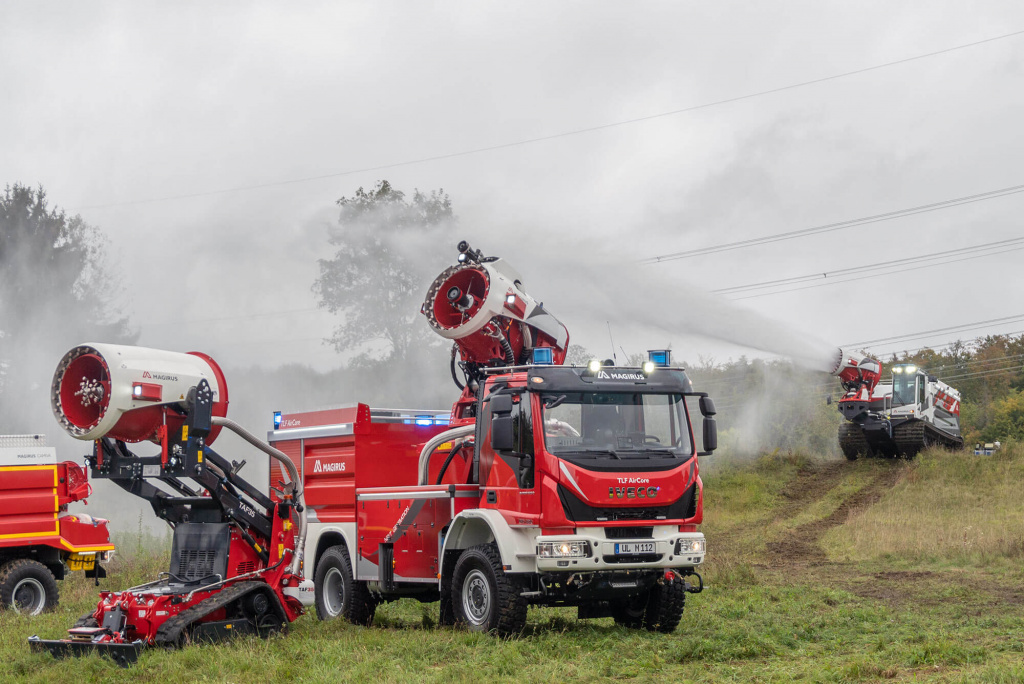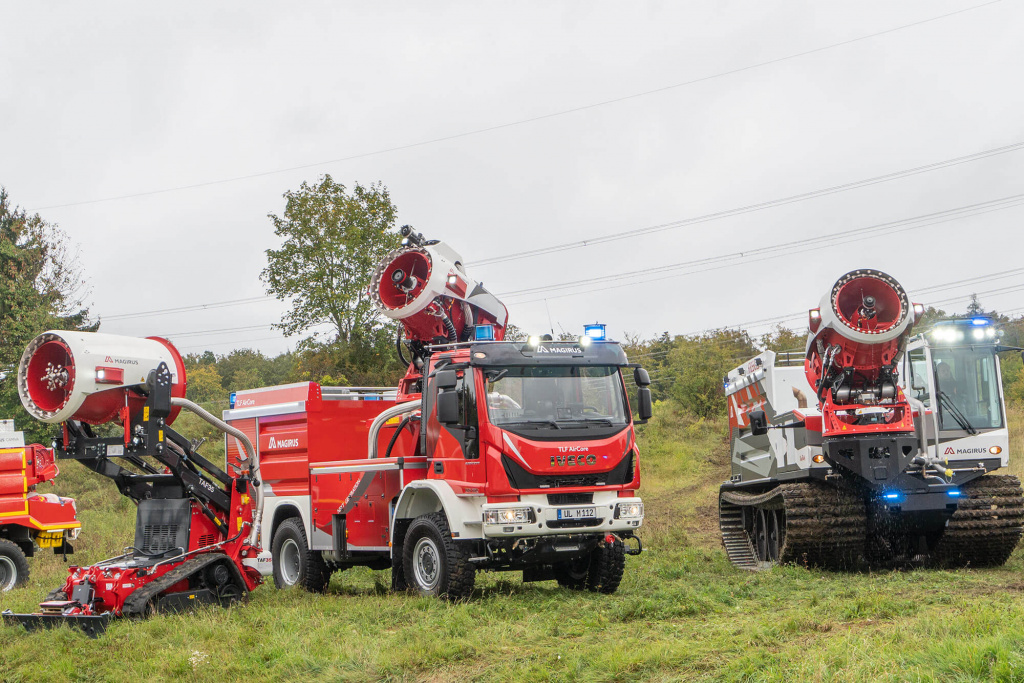 Photo: The AirCore technology in different variants: Firefighting robot, TLF AirCore and FireBull