Fires in substations can lead to power outages and major property damage. As the transformers are filled with large quantities of oil, they need to be extinguished quickly and efficiently. Since water mist technology is an excellent extinguishing agent in this field, more and more countries and companies are looking at this innovative technology as a solution. China is now turning to water mist to prevent fires in substations and numerous extinguishing turbines from EmiControls have been protecting electric power plants in China since 2020.
In 2015, EmiControls started a productive cooperation with a local partner in Shanghai, which is one of China's leading companies in terms of fire protection.
In 2018, they started to introduce the EmiControls technology to the State Grid electric power research institute with the aim to design an innovative and efficient fire protection solution for two substations of the State Grid Corporation of China (SGCC), which is the largest electric utility company in the world.
Fire protection planning for a substation is not an easy task. Water conducts electricity and this makes it unsuitable, and in some cases prohibited, as an extinguishing option for substations. Since our fire suppression turbines produce microscopic water droplets, through a fan, they are not cohesive and therefore cannot conduct electricity.
In other words, the main advantages of water mist are that it cools the ignited object, shortens extinguishing times, and keeps the fire itself under control.

SIMULATION OF TRAFO FIRE: FIRST SUCCESSFUL TEST OF THE FT10E WATER MIST TURBINE
A first fire test with our FT10e water mist turbine was carried out on behalf of the State Grid electric power research institute and they were impressed by the extinguishing power of water mist mixed with foam.
The fire extinguishing test with the FT10e took place in Shanghai at our partner's testing facility. A three-dimensional transformer fire was simulated, with a total volume of 2,400 liters of diesel, on an area of 48m² with a heating value of 116 MW. At the beginning of the extinguishing process, the temperature was 1,200°C. With a water mist foam mixture of 3%, the fire was completely extinguished within 25 seconds - an excellent result.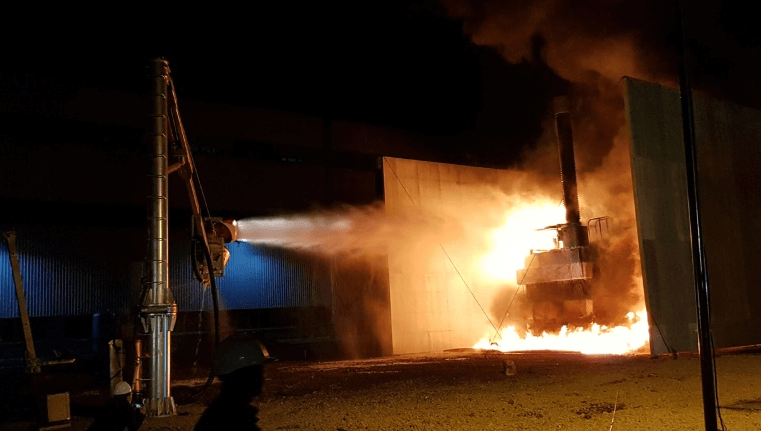 FT10E: AN EFFECTIVE EXTINGUISHING SOLUTION FOR TRANSFORMER FIRES
The EmiControls firefighting turbine used for transformer firefighting is the FT10e. The "e" stands for electric, which means that the turbine only needs a plug and water supply to function. Thanks to its PLC, the turbine could be programmed to work 100% automatically or be driven by any detection system on the market. This is particularly important when it comes to electric power plants as they are not easy to access due to the high voltages they generate. In case of fire, they become even more dangerous for firefighters.
The FT10e turbine is furthermore suitable for fires of this kind since it works with water mist. This technology allows to surround the fire and build a water mist wall that reduces the heat of the fire and avoids that it will spread to other transformers.
A further advantage of the FT10e turbine of EmiControls is that it can work with AFFF foam agents as well as fluorine-free foams. After several tests and developments, it was shown that EmiControls turbines can generate high-quality foam even with the ultimate and environmentally friendly agents. Foam is especially an important factor for extinguishing Class B fires.
INSTALLATION AND APPLICATION: EXAMPLE OF SUBSTATION IN ZHEJIANG PROVINCE
After successful tests, numerous extinguishing turbines from EmiControls were delivered to the State Grid in 2019 and 2020 and were installed by our local partner.
A substation in Zhejiang province houses a total of 12 FT10e turbines, each one protecting two transformers, for a total of 24 transformers. The turbines are on an 8-meter-high tower. Each of the 800kV transformers is 4.8m wide, 4.6m high, and 14m long. The turbines in this configuration (full water mist) can protect an area with a diameter of 35m.
The turbines were positioned on a tower so that in the event of a fire they could spray the water mist from above onto the transformers. This ensures an optimum coverage of the burning surface by reaching all hidden spots and corners and it avoids the fire to spread to the other transformers or even to the entire plant.
The detection system around the substation in Zhejiang province is automatic. As soon as the alarm is triggered, the turbines immediately start extinguishing with 600 l/min (pressure: 12bar). The foam proportioning rate is 1-3%. The water mist helps to keep the temperature low in the first phase. When a transformer catches fire, it must be extinguished quickly to avoid injuries and blackouts of entire city districts but also to keep the material damage as low as possible.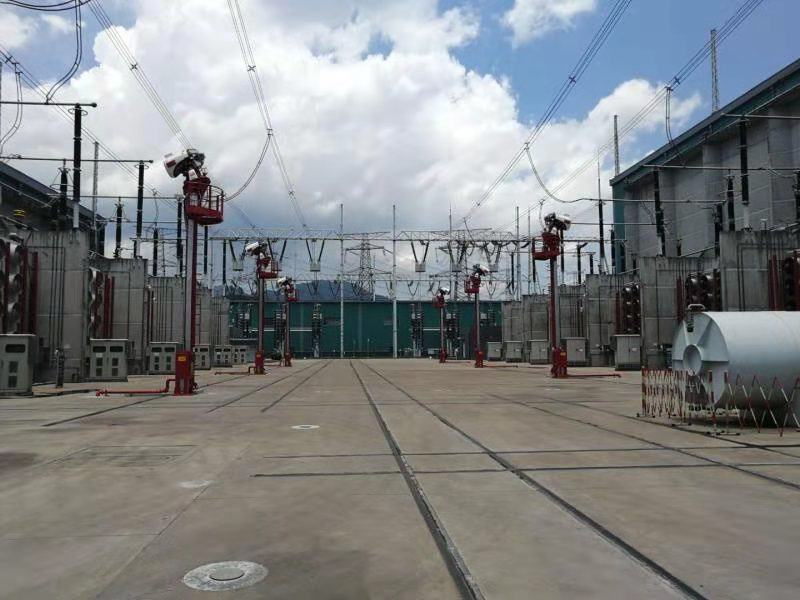 EXPERIENCE AND FUTURE PROSPECTS
Further installations of FT10e for the State Grid are already planned and will take place in the upcoming months and years, of course in close cooperation with our partner.
FIRE FIGHTING TURBINE FT10E
The FT10e firefighting turbine is a turbine specially designed for stationary fire protection. As it is classified for the fire classes "solid fuels", "liquid fuels", "gaseous fuels" as well as "grease fires", it is very well suited for use in substations. In addition, the turbines can be controlled fully automatically, thus avoiding personnel deployment in hazardous areas.
The FT10e can be connected to an existing fire alarm panel or, if desired, it can be operated manually. It has a 360° swing and the turbine tilting goes from -19° to +43°.
The turbine is equipped with a nozzle head that reaches a throwing distance of up to 50m. The outer ring is equipped with 20 Quadrijet nozzles, which atomize the water into a fine mist. Water mist can quickly remove the heat from the emerging fire, it can envelop objects and it can reach even hidden fire sources, making it an effective extinguishing technology.